Our strategy includes the NHS Our People Promise which ensures the principles are addressed across the system and outlines behaviours and actions that staff can expect from leaders and colleagues, to improve the experience of working in health and social care for everyone.
Our priorities fall into three main areas:
Routes into the NHS
Employment entry programmes
The scheme offers mentoring, pre-employment programmes and advice and guidance to local 16 to 31 year olds with an interest to join the health and care system. This takes place through one to ones with our dedicated Pre-Employment Projects Co-ordinator. Our aim is to support 75 young people into roles, which include full time, part time or apprenticeships and to help and support 60 young people to sustain these roles.
For further information, please contact Mel Glynn via melissa.glynn@nhs.net.
The Dudley Group NHS Foundation Trust: Healthcare Support Worker – Level 2 (NOVICE Programme)
Healthcare support workers (HCSWs) work as part of a team providing high quality and compassionate care to individuals. You will carry out well-defined routine clinical duties like monitoring an individual's conditions, checking on their overall progress, comfort and wellbeing. Depending on where you work, you may also help them to eat, drink, wash, dress or go to the toilet. You will also carry out non-clinical duties which could include things like keeping records, making beds, tidying up your work area, returning or cleaning the equipment used during a clinical activity.
This programme involve achieving a level 2 healthcare support worker apprenticeship and working with our healthcare professionals to gain experience on a variety of ward areas within a clinical support worker role.
Candidates must:
be 18 years of age or over
have Maths and English – GCSE grade C or above, grade 4 to 9, or equivalent in Functional Skills at level 2.
If you would like further information about this apprenticeship opportunity, please email the Professional Development Team on dgft.professionaldevelopmentteam@nhs.net.
The purpose of the Clinical Fellowship Programme lead recruitment model is to expand on the success of the Clinical Fellowship programme at RWT which was established back in 2016 and started as a unique offering to attract doctors at a junior level.
By mirroring the partnerships approach established through the Medical Clinical Fellowship Programme. The Clinical Fellowship Programme for Nursing offers a unique opportunity for nursing staff to have access to;
A Personal Development Plan, through the completion of the Career and Professional Development Module delivered by the University of Wolverhampton
Funding of academic studies agreed through the PDP, up to and including masters level degree, broken down into; individual modules, BSc Nursing Studies Top-Up, Postgraduate Certificate, Postgraduate Diploma and MSc Clinical Nursing
Fully funded NMC process for international staff
The aim of the programme is to work in partnership with other trusts to attract and recruit registered nurses on their behalf. To help partners meet the current and future workforce needs and prevent nurse agency expenditure.

Clinical Fellowship Programme lead recruitment model is now an award-winning Programme that provides opportunities for nursing staff to join a structured training programme in a range of clinical specialties, through secondary and primary care. Successful candidates are provided with the opportunity to gain a broad range of experience, working within one of the leading acute and community teaching Trusts in the region, or with one of the Trusts local NHS Partner Organisations. The Programme is suitable for UK and International applicants seeking clinical experience, a high-quality training programme, enhanced qualifications, and career progression.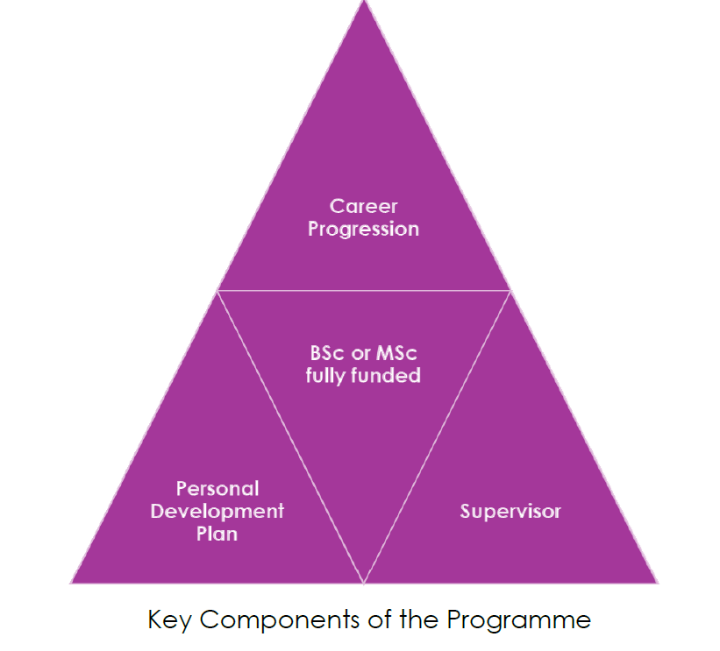 Key Components of the Programme:
Career progression
BSc or MSc fully funded
Personal Development Plan
Supervisor
Because we know how tough it can be to move your life and career to an entirely new country, we aim to support Nurses and Midwives every step of the way. The safe arrival, induction and embedding of new people into the NHS workforce is our number one priority.
Ensuring our international staff are supported beyond the recruitment process, is key to ensuring the satisfaction and wellbeing of our international colleagues (medical and nursing). This is achieved by providing ongoing support through the Practice Education Facilitators who are in place in most of our directorates. Through regular surveying (30,60,90 day approach) and supportive international forums. Most importantly a Trust commitment to eradicating isolation outside of work, with a well-planned social calendar running monthly events for all of our international workforce and their families.
The International Programme has received the following awards;
2018 – Nursing Times Award – Best Organisation for Recruitment Experience (OSCE)
2019 – Nursing Times Award – Best Organisation for Learning & Development
2019 – Nurse Retention Awards NHSE – Finalist for the best career planning and development offer
2020 – Health Service Journal Partnership Awards – Finalist for the Best Educational Programme for the NHS
For further information on recruitment drives and how to apply; please contact Laurence Foure: email address laurence.foure@nhs.net.
You might also be interested in...