As a health and care system for the Black Country, we have committed to a range of pledges and covenants.
Find out on this page what we've signed up for and why.
Chief People Officer for NHS Black Country, Shajeda Ahmed, has signed the Menopause Workplace Pledge on behalf of the Black Country Integrated Care System.
The Menopause Workplace Pledge is led by the charity Wellbeing of Women and aims to promote support and understanding by employers for members of staff who may be going through the menopause.
For far too long menopause has been shrouded in taboo & as a consequence many women are left struggling with debilitating symptoms which can have a significant impact on their wellbeing in the workplace.
By signing the pledge, we are demonstrating our commitment as a system to taking impactful action to make sure all staff going through the menopause are supported, and ultimately make the Black Country a much more open and inclusive place to work.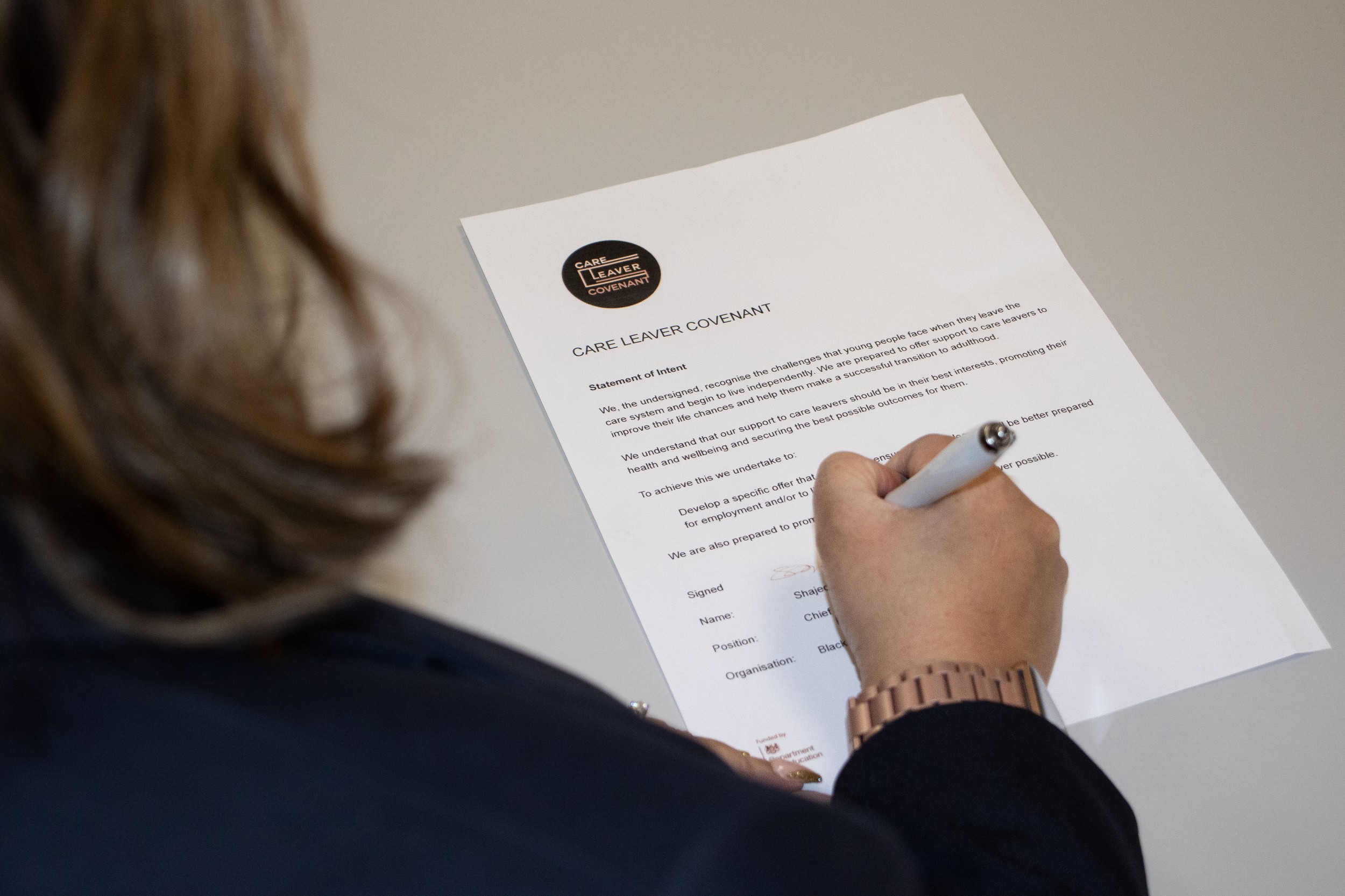 Chief People Officer for NHS Black Country, Shajeda Ahmed, has signed the Care Leaver Covenant on behalf of the Black Country Integrated Care System.
The Care Leaver Covenant is a national inclusion programme through which organisations pledge to provide support for care leavers aged 16 to 25 to help them to live independently.
Joining a workplace can be intimidating for any new starter but for care leavers, without the necessary support, the experience can be overwhelming. That's why we want people leaving care to have better access to a career in the NHS.
By signing the covenant, we are committing as an ICS that care leavers will have improved access to employment, education, and training in a welcoming environment across the Black Country.
Download the Care Leave Statement of Intent, signed by Shajeda Ahmed, Chief People Officer, Black Country Integrated Care Board.
Find out more about the Care Leaver Covenant, go to mycovenant.org.uk
We are committed to taking definitive action to ensure we are an inclusive, anti-racist system for the benefit of colleagues that work for us and for our diverse communities that access healthcare services in the region.
Our Race Equality Commitment Pledge is to tackle racial inequality by improving our annual collection and analysis of system-wide workforce equality data. We will use this data to help identify inequalities, reduce inequity experienced by colleagues that work for us, and address any areas of underrepresentation of colleagues from a Black, Asian, and Ethnic Minority background.
The first step to demonstrate our commitment is to publish an annual ethnicity pay gap report at a system level by March 2024 and take action to reduce any pay disparities between white and ethnic minority colleagues through the development of a system-wide ethnicity pay gap action plan.
Download our Equality, Diversity and Inclusion objectives and pledges 2023-2027
You might also be interested in...